Read more about this programme on the school's website
Programme Description
The Master of Laws (LLM)
The Michigan Law LLM provides a flexible program of study, allowing students to specialize as they like, explore new areas of interest, or qualify to take the New York bar exam. The program's academic rigor rewards students who are up for the challenge of learning and being assessed alongside JD students, while its intellectual engagement rewards students who relish exploration and risk-taking.
LLM students are permitted to enrol in most JD courses, including several clinics. In fact, we reserve seats in many fall semester courses to ensure places are actually available by the time you enrol. We offer only two courses that are exclusive to LLM students (a constitutional law course and a research and writing course). Both courses are optional, though generally recommended.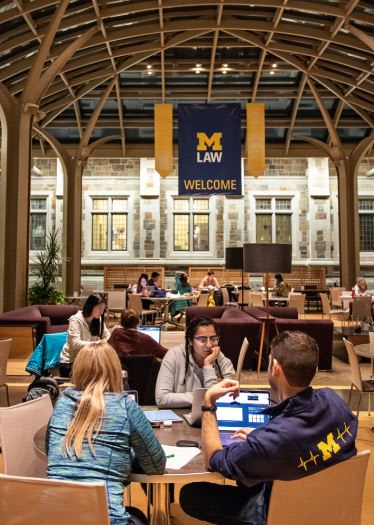 The LLM Programme of Study
The Michigan Law LLM program began more than 125 years ago and continues to flourish today. Unique among its peers, our program stands out for many reasons:
Flexible Curriculum
Our flexible curriculum lets students select from nearly all our JD courses to design their own focus and experience. It lets students earn independent research credit while working directly with world-renowned law school professors. And our interdisciplinary approach encourages students to take courses toward their LLM degree in any of the University of Michigan's other top-ranked schools and colleges.
Study with Outstanding JDs
Students study and attend class with our 900 JD students who come from nearly every U.S. state and more than 15 foreign countries. Our highly selective admissions standards enrol JD students with a median LSAT score in the top 3% of test-takers.
Small Cohort
With no more than 45 participants, our LLM students know their fellow classmates well, have close contact with professors, enjoy individual attention from staff, and integrate well into the institution. Because each LLM student is carefully selected, the class is extremely bright, inquisitive, and diverse. And because of this class size and quality, LLM students are permitted to take advantage of many fully-funded Michigan Law opportunities. Here are some recent examples:
three days in Washington, DC as a Salzburg-Cutter Global Fellow
One week in Vienna, Austria on the Vis Moot Court team
10 Days in India with our Law & Economic Development in India class
two weeks in Geneva as a UNHR-Geneva intern
One summer in London at the AIRE Centre
One summer as a Law & Development Fellow in Namibia
One summer as a Refuge & Asylum Law Fellow in Washington, DC
One summer at the University of Michigan Law School Innocence Clinic
10 months as a clerk at the International Court of Justice in the Hague
Learn from the Best
With an interdisciplinary mindset and a genuine love of teaching, our professors are truly outstanding in their fields. Held in high regard by their peers and published in the most prestigious journals, they cover a wide variety of domestic, international, and comparative law areas.
Continued Study
Top-achieving students may apply to transfer into our JD program or continue on to our SJD program.
Alumni Network
Graduates join the ranks of more than 22,000 Michigan Law alumni around the globe, becoming lifelong members of the Michigan family.
U.S. Culture
Students dive deeply into American culture by living in the country's heartland, likely a once-in-a-lifetime experience. A major U.S. airport is just 30 minutes away.
Ann Arbor
Students revel in Ann Arbor, one of America's best college towns, by dining at some of the more than 1,000 restaurants the city has to offer, learning to cheer for a college football team that plays in the third-largest stadium in the world, exploring the nearby Detroit metro area as it experiences a rebirth, wandering the weekly farmers market that abounds with fresh produce, engaging with the many passionate student groups that only a large university can provide, and soaking up the arts and culture scene in one of the most vibrant and intellectually curious environments in the nation.
"The amount we learn in the classrooms is enormous, but the personal connections we build are also crucial in expanding our horizons. My fellow LLMs and JDs, as well as SJDs and research scholars got me interested in topics I had never thought about before, taught me new things about the legal market, and helped me reevaluate and further develop my career. It is easy to be caught up in the readings and lectures, but the difference that people can make in your personal and professional life are also a defining feature of the experience at Michigan Law."
Daniele de Oliveira Nunes, LLM '19
Senior Associate, Leal Cotrim Jansen Advogados,
Rio de Janeiro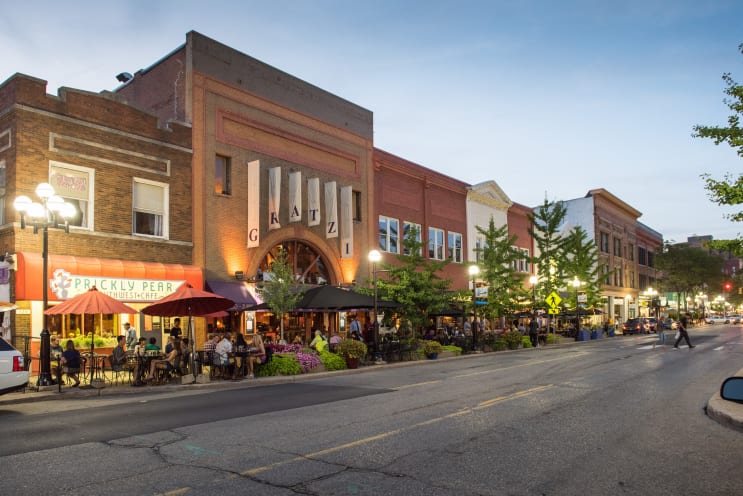 LLM Degree Requirements
1. Earn at least 24 credits
At least 18 of these credits must be earned in Law School courses.

Remaining credits can be earned at any of the other 18 top-ranked schools and colleges within the University for a truly interdisciplinary experience.
2. Satisfy the constitutional law requirement
Successfully pass either Introduction to Constitutional Law and American Legal Process (for LLM students only) or Introduction to Constitutional Law (the JD required course).
3. Satisfy the research requirement
Successfully complete a qualifying seminar or course or earn two credits of Independent Research.
We encourage students not only to consider courses in their area of legal interest but also to take courses that expand the way they think about the law and legal problems. Students should learn to be nimble in applying methods of legal analysis to the many new areas of law they will inevitably confront after graduation.
Admission
Michigan Law welcomes applications from around the world and from all segments of the legal profession—private practice, academia, government, NGOs, public service, and corporations. We seek to create a small graduate class of 35-45 LLMs who intermingle with our JDs to create a diverse and intellectually outstanding student body. Admission to the graduate program is thus highly competitive, resulting in a number of qualified applicants necessarily being turned away.
Clearly, a very important consideration in the selection process is the academic and professional record of applicants in their own countries. Nonetheless, looking at grades alone does not provide an adequate measure to predict the outcome of our selection procedure. Great attention is paid to all details in the application, and letters of reference are taken very seriously. Ultimately, we seek people with proven intellectual and professional abilities whose matriculation allows us to build a heterogeneous group of graduate students representing a wide array of qualities, including varied intellectual interests, different countries and traditions, diverse life and professional achievements and experience, and an ability to benefit from graduate studies.
All applicants must have completed the first degree in law required for law practice or law teaching in the country in which their law studies were pursued. U.S. applicants must have satisfied the J.D. requirements at an ABA-accredited law school. In any given year, those accepted to our graduate programs have completed their legal education with distinction, graduating at or near the very top of their classes or otherwise demonstrating exceptional academic ability.
Application Deadline: January 31
The completed application and all supporting materials must reach us between October and the end of January preceding the academic year for which admission is sought. Applications will be reviewed only when they are complete. All applications which are ready for review by January 15 will have equal chances for admission; thereafter, admissions decisions are made on a rolling basis. Applicants will receive notice of the decision by late March or early April.
Last updated Jul 2020
About the School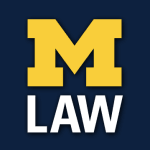 The University of Michigan Law School in Ann Arbor is one of the world's finest institutions of legal education. Housed in the Cook Quadrangle on the University of Michigan's central campus, the Law S ... Read More
The University of Michigan Law School in Ann Arbor is one of the world's finest institutions of legal education. Housed in the Cook Quadrangle on the University of Michigan's central campus, the Law School is unmatched for beauty and is superbly functional for its residential and scholarly community. The School has a sizable and diverse faculty, with many preeminent in their fields. The careers of alumni also speak eloquently to the strength of the School; our graduates are leaders serving with distinction in the public, private, and academic sectors in this nation and beyond.
Read Less